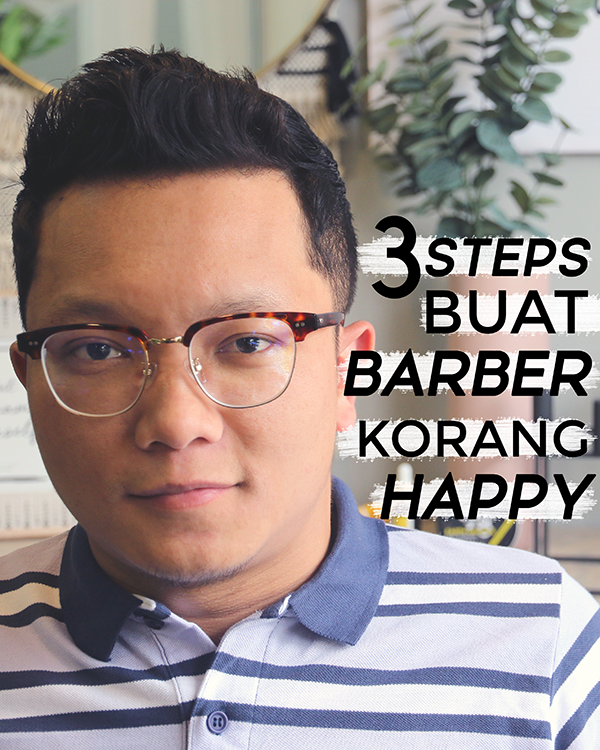 3 STEPS BUAT BARBER KORANG HAPPY
1. DATANG DGN RAMBUT BERSIH TANPA PRODUK/BUILD-UP
Advantage bila rambut bersih, barber tahu texture semulajadi rambut korang. How your hair sits naturally. Lebih mudah dia nk sikat & trim part yg bulky tu. Mesin dan alat2 dia pn keep clean ✂️
2. BAGI CLEAR DIRECTION STYLE YG KORANG NAK. KALAU BOLEH, TUNJUK GAMBAR
Before duduk kt kerusi dia, prepare awal2 nak gaya rambut macamana. Then, bagitahu bahagian atas nak potong berapa inci, bahagian tepi guna clipper no berapa. Biar jelas. If you're not sure, tgk gambar2 kt Pinterest. Show him the picture & let him do the magic.
Tp gambar tu mestilah realistik dgn texture dan panjang rambut korang tu..hihi
3. BERI TIP & PUJI HASIL TANGAN DIA
Semua orang sukakan pujian. So, let him know kalau korang suka result yg dia buat.
Bg tip sbgai tanda penghargaan. Dia akn igt korang lebih dr client lain.
"IF YOUR BARBER IS HAPPY, YOU'LL LOOK GREAT!"