VRIVAL POMADE AFFILIATE PROGRAM, EARN UP TO RM16 PER SALE!

You send us Business, we send you Money!
Are you looking for passive income or new side-business opportunity?
Earn commissions by joining our affiliate program today. What you need to do is just JOIN AND REFER, and once someone purchase a product via you referral link, we do EVERYTHING.
We handle customer queries and deliver the products, and you get paid a commission.
Free to join, there's no requirement to become our affiliate
Sign-up is easy and requires no technical knowledge
---
How Does It Works?
Register as affiliate
Copy and share affiliate links to friends on social media
When someone purchase a product from your affiliate link, you get the commission
VRival will pack and ship product to customers
---
How To Start?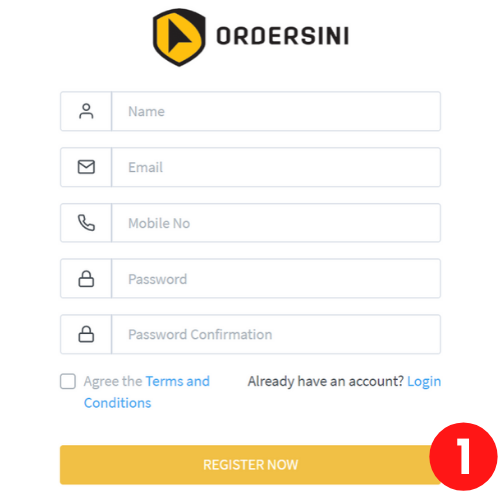 1. Sign up as our affiliate here.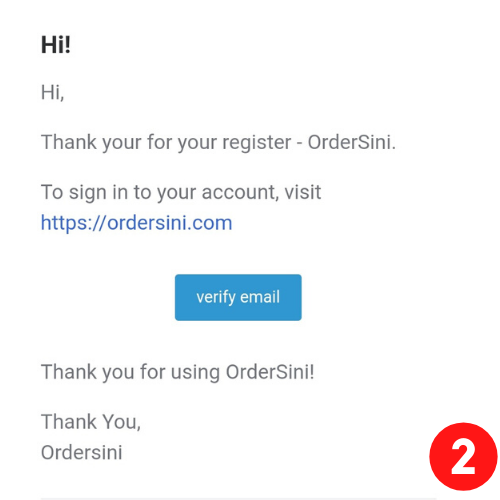 ---
2. Check your email from ordersini.com and tap on 'Verify Email'. Login to your account and verify phone number and fill up bank account details.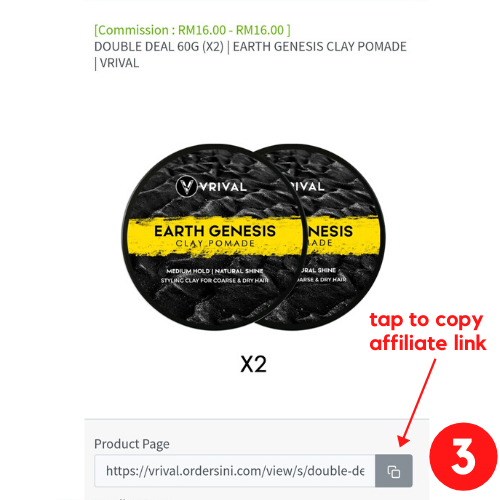 3. Tap here to proceed to affiliate products and copy your affiliate links at 'Product Page'
---
SHARE THE LINKS TO YOUR FRIENDS AND GET PAID ONCE THEY PURCHASE VIA THE LINK!
---
About Commissions
The commission will be credited based on the package that the visitor purchases. It can be tracked inside your own OrderSini affiliate account. Tap here.
| | | |
| --- | --- | --- |
| Package | Normal Commission | Promo Commission |
| 2x Earth Genesis Clay Pomade 60g | RM12 | RM19 |
| 1x Earth Genesis Clay Pomade 60g | RM8 | RM12 |
| 1x Earth Genesis Clay Pomade 14g | RM1 | RM1 |
---
Product Pricing
---
Marketing Materials
You can get marketing materials like product description, photos and more in our VRivalSkuad's telegram group!

---
Frequently Asked Questions
What I need to do to become an affiliate?
Nothing! Except for your desire to be an affiliate.
You don't even need a website (although having your own website helps). You can promote VRival Pomade through search engines, postings in internet forums, facebook, or simply email to all your friends and people you know with your affiliate link to our products.
All you need to do is to send a visitor to your affiliate link, and if he or she buys any of our product packages, you will get paid.
How do I know I will be paid for my referral?
VRival Affiliate Program uses a combination of cookies and IP address to track referrals for best possible reliability. When a visitor clicks on your affiliate link and got directed to OrderSini form, our affiliate system will register this referral and place a cookie on his or her computer. When the visitor orders and makes payment, the affiliate system will check for the cookie (if not found, checks for IP address of referral) and automatically credits the commission to your account. This process is absolutely automatic and seamless. All your referrals will be properly tracked.
Can I refer myself?
You will NOT receive credit for referring yourself.
Am I required to purchase something from VRival Pomade in order to become an affiliate?
You do NOT need to be our customer in order to become an affiliate. There is no extra incentive in being a VRival customer and affiliate, and everyone is paid the same commission rates according to the sales you make.
What is an affiliate link?
An affiliate link is a special URL where you should be sending to visitors. You will get the URL for different packages in your affiliate panel after log in.
How'll the payment be handled?
All commissions will be paid via bank transfer direct to you bank account.
When will I get paid?
You will get paid within 1-2 days after successful order made by the customers.
How to join the affiliate program?
Sign up as our affiliate here.
Check your email from ordersini.com and tap on 'Verify Email'
Tap link here to proceed to affiliate products
Share links to your friends on social media, website, blogs and etc and get paid once they purchase products via your affiliate link
Check your commission here.